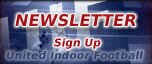 Sioux Falls' Corey Walker (21) and Lexington's William Mulder (31) position themselves for the coming football.

Which game will have the closest score this week?
FW @ TUP
BH @ EVA
SF @ OMA
PEO @ SC
TNV @ OV




"We're not working to be the biggest; we're working to be the best."

The owners and operators of United Indoor Football would like to welcome you to what they believe will be an incredible future for indoor football in the United States. Twelve of the strongest teams in the country have come together to form a professional indoor football league that will be like nothing you've experienced before.

United Indoor Football boasts three former league champions and five former conference champions. Most of the teams in the UIF have at least four years of previous operating experience and have a proven track record of success both on and off the field.

Our owners and operators firmly believe, "We're not working to be the biggest; we're working to be the best." You will see over the coming months and years, a professionally-run league that will benefit not only our owners, but also our loyal fans, corporate sponsors, players and coaches. The teams of the UIF are committed to provide the highest quality of family-affordable entertainment while still competing at the highest level of indoor football in the world.

Along those lines, the UIF is proud to announce the launch of its league website unitedindoorfootball.com. The league website will feature constant updates on all 12 teams and the daily operations of those professional organizations. Stories on star players, league-wide statistical leaders, and news headlines will be special features of the UIF on-line experience.

Thank you for visiting our website and behalf of all 12 of our owners-welcome to United Indoor Football.